Baby Bathtime Routine
This shop has been compensated by Collective Bias, Inc. and its advertiser. All opinions are mine alone. #GetJohnsonsBaby #ChooseGentle #CollectiveBias
Our baby bathtime routine is easy, but we love it and it soothes Dominic after a long day of playing. We like to do baths at night to calm him down and get ready for bed.
We use this routine a lot right before our bedtime routine which you can read HERE.
The bath has become a very happy place for Dominic and I think a lot of it has to do with our routine and the products we have been using.
We have been using the newly reformulated JOHNSON'S® products (HERE) which now have no parabens, no phthalates, and are hypoallergenic.
With all the options out there, I have been at ease knowing these are reliable and trustworthy products. JOHNSON'S® listened to parents all over the world and reformulated their products to set a new standard of gentle!
Hover over and then click the image to shop for JOHNSON'S® Head-to-Toe Wash, then you'll be ready for bathtime!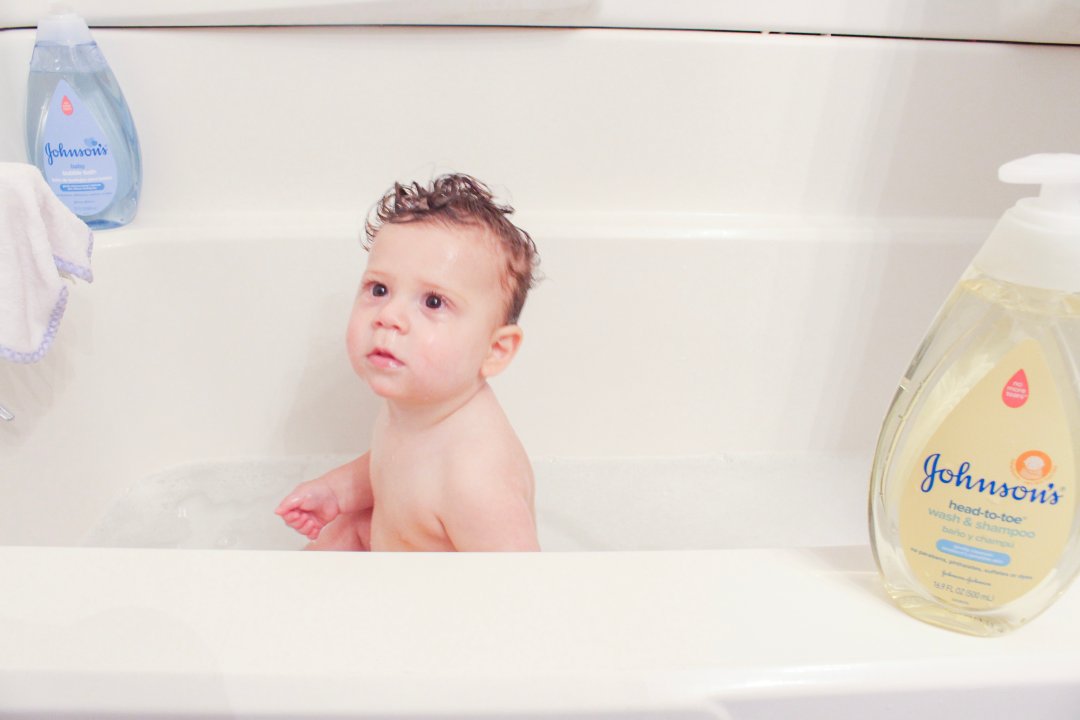 Since Dominic is now almost 11 months, we just use our regular bathtub instead of a baby bath tub. He loves being able to sit in the tub like a big boy! When he was smaller and couldn't sit by himself we would use a baby tub so he could lay comfortably.
We fill the tub with warm water and add in JOHNSON'S® Baby Bubble Bath. It gets nice and bubbly which Dominic loves to play with. He splashes around and makes more bubbles!
Next, we wash his cute, curly hair with JOHNSON'S® Head-to-Toe Wash. It cleans his hair so well and it doubles as body wash which is amazing!
We just put a little into our hand and scrub his hair and then clean his body too. We then take a warm wash cloth to get all the suds off.
He loves to play around in the bath with some bath toys which is great to entertain him while he is getting all cleaned up!
After his bath, we wrap him up in a towel and bring him in the nursery to get a little baby massage with JOHNSON'S® Skin Nourish Shea & Cocoa Butter Lotion. It smells so good and leaves his skin so smooth and soft.
We comb his hair and put some clothes on, and now he's ready to keep on playing! It's a quick bathtime routine but so effective!
JOHNSON'S® now has easy-to-use pumps which are a game changer! It's the little things like this that make the bathtime routine much faster!
We love using these new JOHNSON'S® products (HERE) which have been improved inside and out! I love that they are naturally derived and free of dyes and sulfates.
We picked up all of these items at Target! We love shopping at Target for all our baby needs, even Dominic has fun--evidence below :)
There is a great deal going on from 8/12/18 until 9/1/18. If you buy 3 products, you get a $5 gift card which is instantly redeemable in store and online at target.com.
Target is also having an in store sampling on 8/26/18 of the JOHNSON'S® Cotton Touch and Bedtime lotions! I can't wait to give these a try!
The baby bathtime routine does not have to be complicated! In our house we keep it simple and Dominic loves it!
What does your baby bathtime routine look like? Does your little one enjoy bath time?
Thank you for stopping by the blog!
XO
-LA
PIN THIS IMAGE FOR LATER: