Easy Summer Decor Ideas
Summer decor should be easy and breezy and these ideas will help to achieve that style!
See my easy summer tablescape HERE.
These easy summer decor ideas are simple to implement and will give your home a refreshing vibe for the warm months!
I don't typically decorate for summer as I like to keep things nice and simple since we spend a majority of our time outdoors! This year is no different, in fact it might be even less than normal because we are also in the process of moving!
I am excited to share my tips for decorating for summer though because I'm part of a fun summer blog tour with several talented ladies! A huge shoutout to Kelly, The Tattered Pew, for organizing this amazing hop! Everyone participating is linked at the bottom of my post. If you are joining from, Merichelle, We're the Jones, WELCOME! Isn't her bar cart stunning?!
I have a few things I did this year to refresh our home for summer and many things that you can do at your home too without even having to buy anything!
DECLUTTER
I wanted everything to be SO easy and light for summer decor. This meant packing up all the heavy and chunky blankets from winter/spring. I kept out 1 light weight blanket to add some texture and in case we need it for cozy nights on the porch. The rest of the blankets are rolled up in a basket to bring out after the summer season is over.
I also cleared all the tables for the most part. I took everything off the coffee table and end tables. This not only works for summer, but keeps Dominic from grabbing everything and 'redecorating!' I love how simple it makes the room feel. It opens up the space a lot, I think!
I took most of the things down from the mantle and just kept up a few books, jars, and plants! This is to hide the TV cords mainly. See my tips for hiding TV cords here. I love all the negative space it created.
ADD REAL PLANTS
I have been taking on a new hobby: house plants!! See my beginner's guide HERE. I love the brightness they add with the pops of green. They bring the outdoors in which I am all about for Summer!
I have tons that are low maintenance and easy to care for since I am still learning all the tricks of keeping plants alive. They have been such a fun addition to the house and I highly recommend getting at least 1 plant for summertime!
DIFFUSER BLENDS
I love diffusing oils and haven't used a candle in months since starting my essential oil journey. I love all the citrus oils and they are perfect for diffusing in the summer! See some of my favorite diffuser blends HERE.
My go to blends right now:
Orange, Lemon, Lime

Stress Away, Citronella, Valor

Geranium, Bergamot

Stress Away, Lime, Peppermint
WALL DECOR
The one thing I did add for decor is the wall tapestry. I took down the heavy and chunky wooden pieces and opted for this lightweight piece of fabric that I had lying around. I love the lace detailing so that you can see through the fabric to the wall. It adds some movement and makes the giant wall behind the couch seem a bit smaller. You could use any piece of fabric that you like or wall tapestry to achieve a similar look!
TV HACK
I have a love/hate relationship with the TV in the living room. I try my best to camouflage it and make it fit into the room, but it always seems to stand out. I recently discovered that YouTube has all different TV slideshows that you can play on your TV that look like artwork! I found a Monet one and it rotates through different pieces of art. They're beautiful and make the TV not so much of an eye sore.
I'm sure this has been around for a long time, but I thought I would share in case anyone else hadn't heard of this before! I was so excited to find this little hack! There are tons of options, so you can find a slideshow that fits with your style!
I hope these little summer decorating ideas are a simple way to spruce up your home for these warmer months!
Be sure to stop by Desiree's, Camelot Art Creations, home to see what she has in store for summer! You will love it!
SHOP THE LIVING ROOM:
Check out the rest of the tour here: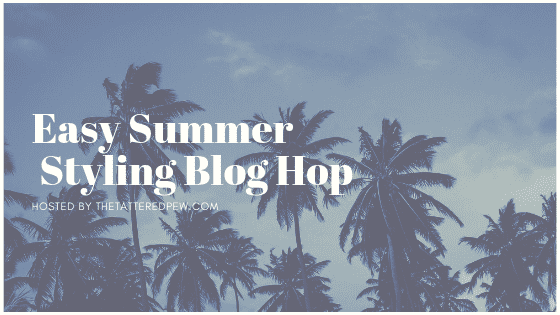 Come enjoy 13 talented bloggers sharing some easy summer styling this week! Sharing with me today are…
Wednesday

And sharing tomorrow…
Thursday

Be sure to sign up for our free newsletter to stay up to date with what is going on over here :)
Upon signing up, you will receive 3 gallery wall printables, 5 on the go Mom hacks, and gain access to our FB group! Scroll to the bottom of the page to join! We'd love to have you as part of our community!
Thank you for stopping by the blog!
XO
-LA
*This post contains affiliate links. If you click on these links and purchase something, I make a commission at no additional cost to you. This helps to support my blog, so thank you SO much!*
PIN THESE IMAGES: